Finally after 6 long months Colborne St is Open to the public. You can now drive and park on the street.
I am still open Monday Wednesday and Friday 10-4. I can be available Tuesday and Thursday if not busy with service calls.
Colborne St is almost completed construction. Should be done hopefully in a week or 2. I have updated prices. Including 16GB DDR4 RAM in all new PCs
Here is a chart that shows how fast hackers can crack your passwords in 2023. As you can see the longer the password and complexed the longer it takes to crack. I always recommend at least 12 characters complex (Upper lower case, number and !@#$%)
How I create my long passwords is by thinking of a phrase and use the first character of each word as your password but adding the numbers and !@#$% . I just have to remember the phrase. Easier then odd passwords.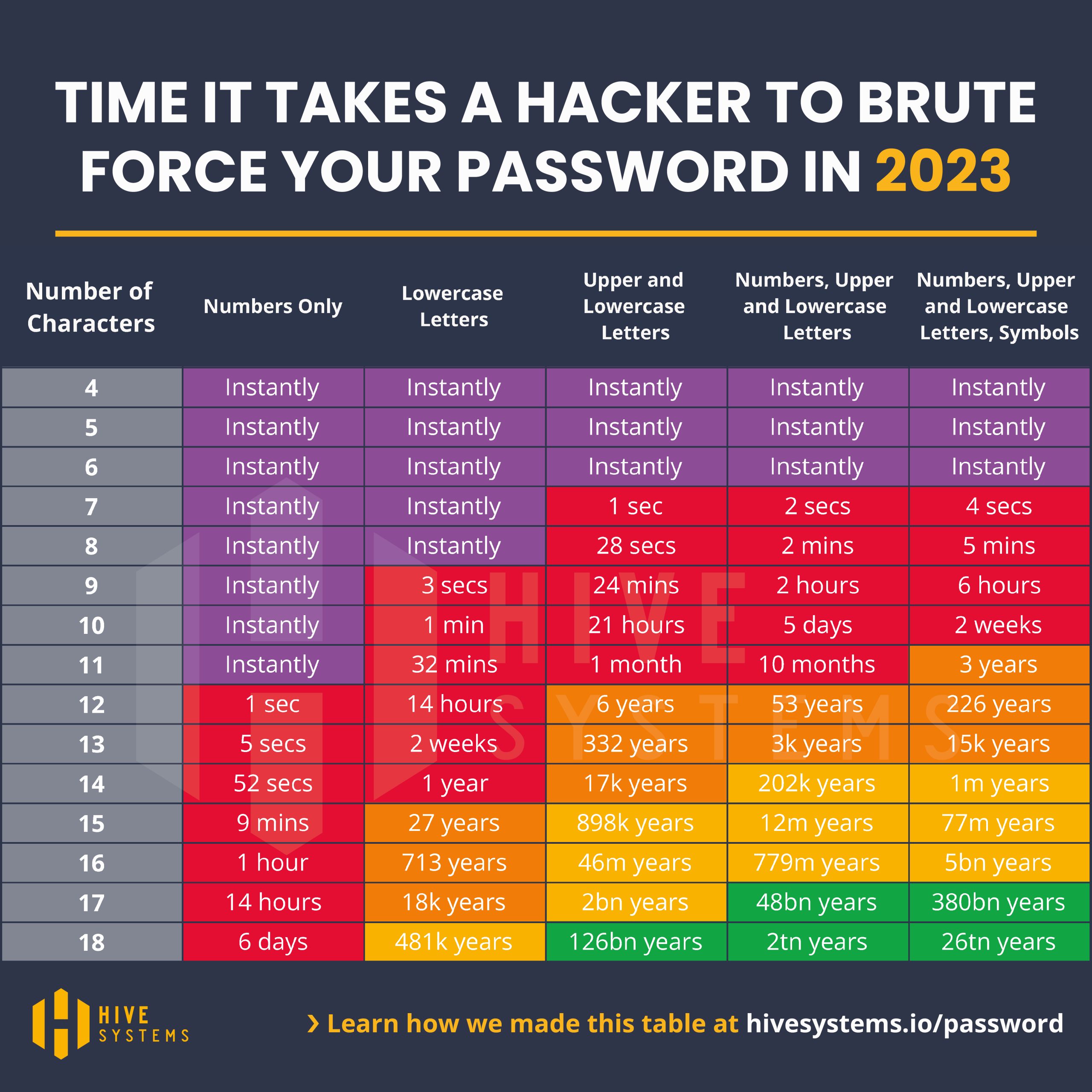 Hello,
Colborne St is under construction all summer long but I am still open. You can park on Robinson Street or in the parking lot between Colborne and Kent.
Currently still opened only Monday Wednesday and Friday's 10-4. Tuesday and Thursday's are my service days. I may be in the store these days. You can press the door bell and if I am here I will let you in. You can also call 519 426 5020 or email info@halnor.ca and can arrange for appointment on these days also.
I will be updating the website more often now. This will include pricing for PC's/Laptops and Used PC's and Laptops I can acquire.
Thank you,
Steve
Well CPUs are back in somewhat regular supplies. I have a few i5 and i7 currently in stock. Can get more. Most of every day items are in stock. Main issue is as always video cards. Can't get any decent gaming cards. Just a few Quadro cards for CAD.
Still open only 3 days a week. Other days are service. Store can be closed on open days for emergency.
Hello,
Windows 11 will be out soon. From what I have seen the difference between 11 and 10 is not a lot. There is a new start menu. You can still use OpenShell (at least what I have tested in beta) if you don't like the menu. Personally I like Windows 11 menu over Windows 10. There are a few things under the hood. One being there will be capable of running Android apps. Also there is restrictions for the Home version that you must use a Windows account to login. For this reason I will be only selling PRO version when it comes. If you want to upgrade there are hardware requirements for 11 to properly run and get updates. You will need an Intel 8th gen CPU or greater (not sure on AMD CPUs) and your Motherboard must support TPM 2.0 (Trusted Platform Module). This is more secure than previous versions. Basically if your PC is older than 5 years old you likely can't upgrade. Do you need to upgrade? I don't think so. From what I have read currently there are a bunch of bugs in it with speed etc. Also seems MS wants you to use Edge and the default browser and currently hard to change it fully to a different browser. Windows 10 ends support Oct 14 2025
CPU Shortage still
With Covid and high demand for computer parts (Especially high end graphic cards and most CPUs) I currently have limited supply. Intel i7K and have a few i5K coming in.
Well its mid February and COVID-19 is still around. going down in number now. Not sure when I will open to general public. Possible a few days in a week or so.
Because of the COVID there are a high demand for video cards that NVidia and AMD cannot keep up. I can't even find decent video cards on Amazon. Here is an article explaining this.
I seem to be able to get CPUs but Motherboards also are in short supply and price's going up with Intel Chipset issues. article
Well I can start to get Intel 10th gen CPUs. With the 10th gen there are somethings to know. The 10th get CPU's use a new LGA2100 Form. With the new form means new motherboards. One feature in the new chips is its capable of 128GB of RAM compared to 8th and 9th with max of 64GB of RAM. No one really needs this much unless you are doing some large CAD files or running various Virtual Machines.
With the new Intel chips they are catching up to AMD's Ryzen CPUs. So this is what you get with the different Cores.
Intel i3 10th gen have 4 Cores with Hyperthread so the i3 10th architecture is similar to Intel's 7th gen i7's.
Intel i5 10th gen have 6 Cores with Hyperthread.
Intel i7 10th gen have 8 Cores with Hyperthread.
Intel is still using 14nm chips. They only have a few 10nm chips. Intel just can't seem to shrink everything down like AMD.
Well Windows 7 has officially been stop supported from Microsoft on Jan 14, 2020. What does this mean? Well your Windows 7 PC will still work fine but it starts to put your PC at a security risk. Also 3rd party applications (like Sage 50) will likely start not supporting Windows 7. So you ask what can you do? Well we have been upgrading many PCs/Laptops to Windows 10. The software so far is still free to upgrade but we can do the upgrade for you at a small charge. What we do is a fully backup first in case the upgrade goes bad. We then do the upgrade, do all the Windows upgrade and test the PC to confirm works fine with Windows 10. We can also install OpenShell (free software) that makes the Windows 10 start menu act like Windows 7 style. (Windows 10 new look is probable one of the greatest reasons people don't like Windows 10 but with OpenShell it makes the transition much easier. I use OpenShell all the time and feel the menu is much more productivity.)  Its very customizable if you like but the default settings work great. Now a lot of our clients are also upgrading there old slow spinning drive to a SSD (Solid State Drive). The prices are very reasonable and they give a LARGE performance boost!. Boot time and loading applications are much faster. Its like getting a new PC!!. So if you need to upgrade to 10 give us a call or email and we would be glad to help.
Intel CPU's are still in limited supply and don't know when they come back to norm. Currently (and this changes weekly) I can still get i3s and some i7s. i5s are a hit and miss. BUT I can usually get AMD Ryzen CPUs in all ranges.
The AMD Ryzen CPU's are a great value for performance.
Starting to get Intel 9th gen CPUs. Currently i3-9100F and i5-9400F. The CPUs are similar to 8th gen in speed. Bit quicker but the F series don't have onboard video so will need a video card.